Mortgage professionals helping their communities thrive
What makes a loan officer a leader? At Loan Officer Hub, we salute those mortgage professionals who make exceptional efforts in the workplace and beyond to create a positive impact in the communities they serve. Meet our Loan Officer Leaders, who provide value and support to borrowers, colleagues, referral partners, neighbors and fellow citizens in their local communities each and every day.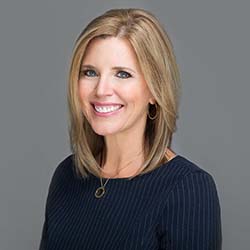 Loan Officer Leader Spotlight: Kristi Hardy
Since being named a Top 10 rookie originator in 2004, Kristi Hardy has earned many accolades – and originated many loans, of course. But she says what really took her business to the next level was learning to think like a CEO, not a loan officer.
Loan Officer Leaders in the mortgage industry
Marc Williams

From his early career in nonprofits to his work now as a senior loan officer and consultant to NeighborWorks America, Mac's career has been built around the importance of financial education and building generational wealth.

Paul Volpe

Paul Volpe of Nova Home Loans has been making a difference in Tucson, Arizona for over 20 years. In 2020 his team alone donated $20 per loan file to the Boys and Girls Club for a total of $47,000.

Tim Smith

When Tim Smith turned 40 years old, he began running, which led to his passion for competing in triathlons and raising funds for the Leukemia & Lymphoma Society. 8 years and 20 events later, he's raised a total of $250,000.

Jessica Robertson

Jessica wanted to provide financial assistance to pet owners who can't afford to pay for emergency treatment for their ill or injured pets, so she created Armani's Angels in 2014.

Maria Labie

Maria Labie has earned many accolades in her 20+ years in the mortgage industry. But what really continues to motivate her is the opportunity to make a difference for the people she serves.

Robert Coomer

Robert Coomer has paid his own success a loan officer forward: His 250-person lending group contributes a portion of every loan they fund to Candlelighters Childhood Cancer Foundation of Nevada.

Missy Bass

"Community starts in your backyard." Those are words to live by for Missy Bass, a loan officer and cancer survivor. When she was diagnosed with Hodgkin's disease at 35, her community rallied around her. When she was done with chemo treatments, she wanted to give back.

Shant Banosian

Shant credits his parents with instilling in him the importance of community giving and involvement. He is active with St. Jude Children's Hospital, Rippl, and the Guaranteed Rate Foundation.

Carey Ann Cyr

Carey Ann believes in leading with a give back mentality: she has helped create a customer appreciation program (CMG Gives Back), a real estate agent education group (The Real Estate Blaze) and a training program for her team (Ignite Sales).

Cory R.C. Banks

Cory raises awareness and funding for metastatic breast cancer through #Keys4Cancer and by donating $50 of every closed loan to METAvivor.org.

Ginny Phillips

Ginny battled Chronic Lymphocytic Leukemia and has been in remission since 2014. She was honored as a Leukemia & Lymphoma Society Woman of the Year by the LLS Virginia chapter.

Jeff Anderson

Jeff is active with Upward Bound Sports, runs a scholarship program honoring his late brother, and mentors kids in Sunday school.
Subscribe to Loan Officer Hub
Never miss a key insight, tool or strategy! Loan Officer Hub is here to help you succeed in the mortgage industry. Subscribe to our email newsletter to be notified when we drop the latest content from industry experts.