What makes Jessica Robertson a leader in her community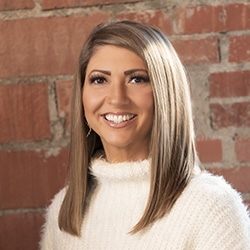 It takes a leader to turn a personal tragedy into something positive that benefits the community. And for someone like Jessica Robertson, a senior mortgage banker at Flat Branch Home Loans in Columbia, Missouri, it was a way to heal after suffering a devastating loss.
In 2013, Jessica's beloved dog Armani was brutally beaten during a home invasion. His injuries were so extensive that doctors at the University of Missouri Veterinary Teaching School didn't expect him to survive. The distraught dog lover pleaded with doctors to do everything they could for Armani. "I said, 'Here's my credit card, I don't care how much it costs,'" remembers Jessica.
Unbelievably, Armani recovered and was able to live another 18 months before succumbing to complications from the trauma. Although saddened, Jessica decided to "make lemonade out of lemons."
She knew she was very fortunate to have been able to afford the surgeries and intensive care Armani needed – along with the financial contributions from many of her generous friends and family members. It made her wonder how other people who couldn't afford emergency care for their pets managed.
Armani's Angels has helped almost 400 Missouri families pay for life-saving medical care for their pets.
That thought inspired her to create Armani's Angels, a non-profit organization dedicated to raising money to assist pet owners who can't afford to pay for emergency treatment for their ill or injured pets. Since opening in 2015, Armani's Angels has helped almost 400 Missouri families pay for life-saving medical care for their pets. The volunteer-driven organization raises money through fundraisers, such as an annual golf tournament, and accepts donations from pet lovers.
"I feel so good helping other people," says Jessica. "Armani's Angels has been therapy for me and for others. It offers hope to pet owners at a very stressful time in their lives."
3 questions with Jessica Robertson
What's the best advice you've received and who gave it?
"Jim Yankee, the president and founder of Flat Branch Mortgage, told me long ago to take a coaching class. I started in this business in 2006, working as an assistant for him, when I was only 24 years old. He believed in me and said I needed to get out of my comfort zone and do more. I took his advice, joined a coaching class and started reading 'The Road Less Traveled' by M. Scott Peck, which was given to me by my coach. I learned so much!"
What is your favorite part of being a loan officer?
"I love teaching new homebuyers. Buying your first house is a big, scary process. There's such a lack of information! It feels so good to help people. I'm able to connect with first-time homebuyers, teach them and often become friends with them in the process."
How do you see the loan officer role evolving in the next 5 years?
"I think there will be a sharp decline in the number of loan officers with all the automation and online options. But there will always be first-time homebuyers who will want and need help through the homebuying journey. Loan officers who have a passion for educating first-time homebuyers and answering all their questions will still be needed. As well as those LOs who take the time to talk to their borrowers and ask questions about their future plans so they can help determine the right loan product for them."
Subscribe to Loan Officer Hub
Never miss a key insight, tool or strategy! Loan Officer Hub is here to help you succeed in the mortgage industry. Subscribe to our email newsletter to be notified when we drop the latest content from industry experts.