What makes Carey Ann Cyr a leader in her community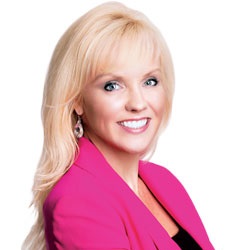 18 years ago, Carey Ann moved from New England to the Nashville area to pursue music. A graduate of the University of New Hampshire, Whittemore School of Business, Carey Ann has built a strong name for herself in Middle, Tennessee. Music brought her to Tennessee and she used her education, drive and entrepreneurial spirit to create a successful career in the mortgage industry. Carey Ann and her business partner opened CMG Financial, locally, about five years ago. They have taken a no name and have worked hard to gain serious market share to create a positive impact in their local community, employing 11 loan officers and helping over 1400 families annually with their mortgage financing needs. Carey Ann and her personal team have a wealth of experience and knowledge in today′s mortgage industry. As the #1 mortgage team in Tennessee, ranked #17 in the nation, "Carey Ann & My Mortgage Team " have a long client list of satisfied people for whom they have helped obtain mortgages to purchase the home of their dreams. They've built their business on repeat clients, referrals from family, friends and business associates.
The core beliefs of her team are to never miss a closing date, stay true to your word and also do what is right for both the consumer and referral partner. They also believe in leading with a give back mentality.
Carey Ann and her team believe in leading with a give back mentality.
They created a program called CMG GIVES BACK. Every month they draw two lucky families that they have funded through the local CMG Financial branch. Both families receive a check for $2500, as part of their Appreciation Drawing.
To show her appreciation to her local real estate community, Carey Ann has created a group called The Real Estate Blaze with two other business professionals. They provide education with a fun twist and bring in national speakers monthly that they think will help the real estate agent and their business.
Carey Ann is a big believer in systems and trainings! The betterment of those she serves, as well as those she works with is paramount. She's created an internal training program called Ignite Sales which gives back to her local CMG Sales Team. Daily, weekly and monthly trainings help assist in their growth and provides accountability.
She's passionate about this business and making a positive impact in the lives she touches through the mortgage industry.
An Interview with Carey Ann Cyr
Best advice you've received and who gave it?
A great coach once told me to remember that I was the product and this business was 80% marketing. As soon as I started to market myself as the product and focused on becoming a person of interest, the phones started ringing and production numbers exploded.
Favorite part of being a loan officer?
My favorite part of being a loan officer is getting to work with so many deserving families daily and problem solve ways to get them approved and/or find a program or product that maximizes their short and long term financial goals.
Biggest success as a loan officer?
My biggest success as a loan officer has been the decision to commit myself to systems which allowed growth into being the #1 Originator in the state of Tennessee.
Biggest failure as a loan officer?
Not be chosen to be the preferred lender position for a large account because of lack of confidence and not being prepared. Failures make us stronger and from that point on, I have done my homework, profiled my audience and presented myself with confidence for each opportunity meeting.
How do you maintain referral relationships (which ones are most effective)?
Referral relationships are key. I focus on supporting my top 25 referral sources, which are all real estate agents, with education, business development ideas and celebrations. I have found of all my referral partners, real estate agents are most effective.
What is an area of self-improvement you recognize in yourself?
Self-improvement is important to me. I continue to find myself struggling with balance between business, family and self, but I have worked to put systems in place to work towards improving this important piece.
What social media platform do you use most for business?
I won't say my age, but social media is a little over my head, so I stick with what I know. I market to real estate agents through Facebook and rotate between motivation, family, business with quotes, still photos and video. It's helped me gain additional exposure in the mortgage and real estate industries.
What is the biggest challenge currently facing the mortgage industry?
The biggest challenge currently facing the mortgage industry is price, price, price. As interest rates shift and the big bank competition compresses margins, we find ourselves being forced to cut price or compress margins as well. Basic math would suggest that if the profit on each loan is decreased now due to price compression, we have to close double to make the same. This leads to working harder to get the phones to ring even more than before.
Subscribe to Loan Officer Hub
Never miss a key insight, tool or strategy! Loan Officer Hub is here to help you succeed in the mortgage industry. Subscribe to our email newsletter to be notified when we drop the latest content from industry experts.