What makes Jeff Anderson a leader in his community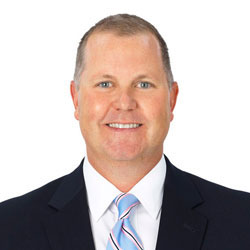 "I've been blessed throughout my life to have great leaders invest in me, and as a result, I am driven to give back. I owe so much to my parents as well as many teachers, coaches, pastors and business leaders who have influenced my path. My parents showed me unconditional love and taught me that God loves us so much. I still live and work in the same Southern California community where I grew up, and I've seen our city grow and change. When I was young there was one high school in our small town, now there are four!
Today, in addition to my work as a loan originator, I enjoy giving back to the community that has given me so much. I currently serve on the Board of Upward Bound Sports, a non-profit Christian ministry dedicated to helping kids experience sports through Christ centered coaching. Upward Bound is where I began coaching youth sports in 2010. I've also enjoyed the moments that come with coaching my son's baseball teams in our local Little League the past 6 years.
I lost my younger brother James to suicide 20 years ago – an event that has had an impact on my life. He was an outstanding young man and a great golfer as well. James played on the golf team and was a varsity letterman all 4 years at Alta Loma High School (ALHS). For 18 years now, I've run a scholarship program which recognizes graduating seniors from the ALHS golf team. It's not a large budget program, but it's funded entirely by the Anderson family. The James Anderson Memorial Scholarship has allowed us to give back to student athletes in our local community and honor my brother's memory.
"I believe my purpose is to be generous in encouraging others."
The past 10 years I have found joy by serving in children's ministry at Hillside Community Church, giving back by mentoring kids in Sunday school. I'm in my third year on the Board at Hillside, and I'm currently the Board Chair.
My wife, Dina, has been by my side for 26 years. We've celebrated many wins together and a few losses too. We're proud parents of three, and became grandparents almost two years ago. We make a great team and having her by my side has made all the difference.
Above all, I've learned it's not about me. I believe my purpose is to be generous in encouraging others."
An interview with Jeff Anderson
Best advice you've received and who gave it?
My father, Norm Anderson, taught me the importance of honoring relationships. He has walked the walk, both professionally and personally. Dad inspired me to strive for integrity in all relationships and to be a fierce defender of what is right, just and fair.
Daniel Harkavy reminded me to prioritize that which I value most. My faith, and my role as a husband and father come before everything else.
Herb Lewis showed me the power of "being a verifier, not a believer". That advice has been particularly helpful as a loan originator. Steve Foster frequently said, "If you take care of God's people, he'll take care of your business." He was right.
Favorite part of being a loan officer?
My favorite part of being a loan officer is educating clients and referral partners so they're empowered to make decisions with confidence.
Biggest success as a loan officer?
My biggest success as a loan officer comes from every time a past client refers me to a friend or family member for mortgage advice.
Name one goal you'd like to achieve in the next year?
It would be easy to mention a volume or income milestone, but for me it's discerning God's will and making my family proud.
What social media platform do you use most for business?
When I use social media for business, I typically use Facebook and Instagram, but I'm not always comfortable calling attention to myself.
If you weren't a loan officer, what job would you be doing?
If I wasn't a loan officer I'd be teaching economics at a community college, coaching high school baseball, or chasing the dream on the golf tour.
Subscribe to Loan Officer Hub
Never miss a key insight, tool or strategy! Loan Officer Hub is here to help you succeed in the mortgage industry. Subscribe to our email newsletter to be notified when we drop the latest content from industry experts.