What makes Tim Smith a leader in his community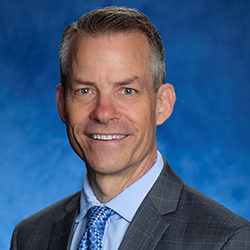 "Outstanding."
That was the one-word answer from Tim Smith, a loan originator at First Merchants Bank in Birmingham, MI, when asked how he was doing at the start of his Loan Officer Hub interview. Turns out, the word also applies to Tim's work ethic, his professional performance and the charitable contributions he's raised for the Leukemia & Lymphoma Society by competing in triathlons.
When Tim graduated from Michigan State University, he didn't have a job lined up. His father, a former real estate agent and who had just opened his own mortgage company, said to him, "I guess you're going to sell mortgages."
Tim says it was the luckiest thing that ever happened to him. Thirty-eight years later, he's still doing it and has been named Michigan's #1 mortgage originator by Mortgage Executive Magazine, Scotsman Guide and the National Mortgage News – 5 years in a row. His volume has consistently grown to exceed $120 million, making his one of the most recognizable names in the mortgage industry in Michigan.
Throughout the years, as his success grew, he began to look for other outlets to funnel his energy, which led to his involvement in the Leukemia & Lymphoma Society.
"I decided to start running," he says, "since I was terrible at golf."
"The work of the Society has shifted leukemia and lymphoma from being diseases that kill to chronic conditions you can live with."
Soon, he became intrigued with triathlons and saw a "Teams & Training" sign advertising how the Leukemia & Lymphoma Society would provide coaching and training for triathlons if the athletes raised money for the Society in return.
"I figured it was a win/win situation," he admits.
He enjoyed competing in the triathlons and making new friends from his involvement. The more events he participated in, the more passionate he became about the cause. After 8 years and 20 triathlons, he has raised $250,000.
"The work of the Society saves lives; it has shifted leukemia and lymphoma from being diseases that kill to chronic conditions you can live with," offers Tim.
3 questions with Tim Smith
How do you maintain referral relationships?
"I still call on real estate agents and builders," he says. "Too many LOs take referrals for granted. I'm constantly out there cultivating and replenishing referrals, communicating and adapting with the times. As rates rise, these real estate agent and builder relationships keep you in business."
Tim admitted that when he started out, he was afraid to walk into a real estate office and make a cold call. Which is ironic because now the focus of his success revolves around his interactions with his referral partners and the satisfaction he gets from building their confidence in him.
"I'm intense about following through," explains Tim. "Real estate agents and builders encourage their buyers to use me because they know I'll deliver 100% of the time. If you do a really good job and earn those third-party endorsements, it takes the rate game out of the picture."
In addition to calling on agents, he attends real estate functions and is very active in the Women's Council of Realtors® in Michigan.
Explain one way technology has helped you as a loan officer.
"You have to embrace change. Technology has definitely made it easier for people to apply online and that's been a huge help in shortening the processing timeline.
"I'm not the best at technology, but I've learned how to adapt. I've learned how to use social media (mostly Facebook, Instagram and LinkedIn), and have created a good following. You have to find the right balance of sharing business and product information with stuff from your personal life. My goal this year is to start making videos. I think video is good for explaining niche products."
How do you see the loan officer role evolving in the next 5 years?
People are still going to be dependent on LOs for their counsel and help in navigating the process. And real estate agents will still want to know that you'll make it happen.
Realtors® is a registered trademark of NAR.
Subscribe to Loan Officer Hub
Never miss a key insight, tool or strategy! Loan Officer Hub is here to help you succeed in the mortgage industry. Subscribe to our email newsletter to be notified when we drop the latest content from industry experts.