What makes Shant Banosian a leader in his community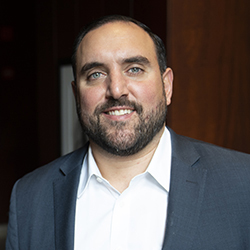 "The mortgage business is a business of relationships. For as long as I can remember, my parents were heavily involved in giving back to the community and instilling the importance of community giving and involvement in me. As I meet and work with people I get the opportunity to learn about their wins and their struggles. It's provided me great exposure to many different ways to be of service, beyond a solid pre-approval. It's important to my team and myself to use our voice, time and resources to do what we can to give back. I personally got involved with
St. Jude Children's Hospital
in 2013. St. Jude Children's Research Hospital's mission is to treat and defeat childhood cancer and other catastrophic diseases. No family ever receives a bill for treatment, housing or transportation. One family treated at St. Jude saves thousands worldwide because they freely share their research with every other hospital. In 2016 our team joined the New England St. Jude Walk/Run and quickly became one of the Top 10 fundraising teams in the country. It's an incredible event that we've been able to invite our customers, referral partners, families and friends into. Many of them now have their own teams and the walk/run is growing by leaps and bounds. Not only does the walk raise money and awareness, but it is also an awesome time to connect and do something great with all of the people in our community. Most recently, we have started to work with
Rippl
, an arm of
Souls4Soles
. Rippl collects lightly used athletic shoes to distribute to people in need. Our referral partners, customers, friends and family all cleaned out their closets and gathered shoes for those in need. It was inspiring to see the hundreds of shoes that people donated and know that instead of landfills, they were going to people who needed them.
"It's important to my team and myself to use our voice, time and resources to do what we can to give back."
I also love the work that the Guaranteed Rate Foundation does. What's unique about the foundation is that funds go directly to people in moments of hardship. There's no middleman. A couple of years ago a firefighter in our community lost his life while on the job. We were able to make an appeal to the Foundation on behalf of the family. The Foundation jumped at the chance to help with monthly financial needs for a period of time. I have countless stories where they have swiftly and directly made an impact. The foundation is 100% supported by employees of Guaranteed Rate. Last year the Foundation gave away over 1 million dollars and it felt great!
Giving my time or resources has been a great way to connect with my team, professional network, family, friends, customers and community. It is always inspiring how many people raise their hand to help. I hope to continue this work for years to come."
An interview with Shant Banosian
Best advice you've received and who gave it?
The best l advice I've ever received was from my Dad: "Be honest and work hard." He not only said this often but showed me every day as a living example of this principle. From a professional standpoint, the best advice I received was from a Loan Originator was. He told me to know all of the ducts, processes, and guidelines inside and out and to be committed to staying current and up-to-date as the industry changes.
Favorite part of being a loan officer?
My favorite part of being a loan officer is being involved in one of the most important decisions in someone's life. There is nothing more satisfying than helping a first-time home buyer, who starts off completely overwhelmed with the process, simplifying it for them and helping them get to the finish line. From an initial phone call with a borrower, to receiving a photo of them in front of their new home, I am grateful to be a part of such a major milestone.
Biggest success as a loan officer?
My biggest success as a loan officer so far is being able to create and build my team, which was required for us to have such high productivity. We have an amazing group of committed, talented and smart people to help support me and my clients.
Biggest failure as a loan officer?
Early in my career, I had a fear of disappointing anyone or missing an opportunity. I rarely said, "no" to a time commitment. What I've learned over the years is that, "saying yes to something means I'm saying no to something else." Before I say, "yes" to something now, I check to see if It truly fits with my priorities at the moment.
Name one goal you'd like to achieve in the next year?
I would like to do over 1 billion dollars in business within this calendar year.
How do you maintain referral relationships (which ones are most effective)?
Good old-fashioned face to face meetings, whether it be lunches, coffees or dinners. I think it's important to get to know my referral partners. I get to work with amazing people that often become friends. It's important that we build trust and confidence between one another. I want my partners to feel comfortable picking up the phone and calling me to collaborate or as a resource. I also offer a series of workshops for the agents we work with. If there is something that is working for my team, I want to share it. Any way I can support our Agent Partners and add value to them is a win.
What is an area of self-improvement you recognize in yourself?
Being able to step away from the business in order to take care of myself, both mentally and physically. Despite how fast business is growing, it is so important to make sure I'm staying active and always working on self-improvement; getting to the gym, attending seminars to expand my knowledge, reading, meditating, getting adequate rest. If I'm able to take care of myself outside the office, I'm tremendously more productive in the office.
Explain one way technology has helped you as a loan officer?
Technology has allowed me to be more mobile, so I am not always stuck behind a desk. Even when outside the office, I have access to data and information needed to make decisions and communicate important information with ease. Technology helps me provide rapid results in terms of communication, speed, and efficiency. Guaranteed Rate's Digital Mortgage and Toto platform have been instrumental in making this possible. Ultimately, technology has allowed me to deliver better service levels, both to my referral partners and clients.
How do you see the loan officer role evolving in the next 5 years?
The loan officer role is evolving more into business development role. The most successful loan officers will be the best rainmakers; the ones who are able to drive in the most business while maintaining strong relationships with successful referral partners, whether that be real estate agents, attorneys, financial advisors, etc.
What social media platform do you use most for business?
We use a combination of LinkedIn, Facebook and Instagram.
If you weren't a loan officer, what job would you be doing?
I would be a high school football coach and gym teacher if I were not a loan officer. Or, working on Wall Street…
What is the biggest challenge currently facing the mortgage industry?
The biggest challenge facing the mortgage industry are the fintech companies that are emerging as viable competitors, who are engaging consumers, prior to loan offers or real estate agents being able to get in touch with them. We need to find a way to combat this.
Subscribe to Loan Officer Hub
Never miss a key insight, tool or strategy! Loan Officer Hub is here to help you succeed in the mortgage industry. Subscribe to our email newsletter to be notified when we drop the latest content from industry experts.