What makes Missy Bass a leader in her community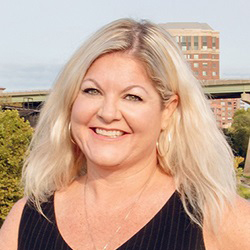 "Community starts in your backyard." Those are words to live by for Missy Bass, a loan officer, vice president and production manager for C&F Mortgage in Richmond, VA. As a cancer survivor, Missy knows the importance of community. When she was diagnosed with Hodgkin's disease at 35, her community rallied around her. When she was done with chemo treatments, she wanted to give back. So Missy got involved with the Leukemia and Lymphoma Society. She sits on the board and participates annually in the Light the Night fundraiser and Man/Woman of the Year Campaign. Through her fundraising efforts over the last 10 years, her reach has totaled $250,000. Missy also sits on the board of
Sportable
, a homegrown Richmond nonprofit organization that helps put disabled athletes back in sports. Sportable provides people with physical disabilities and visual impairments access to 20 sports in the greater Richmond area. "It's absolutely amazing," Missy says, "The youngest athlete is 3 and the oldest is 91, and you get to see how access to sports makes a difference to them." As the President of the Richmond Mortgage Bankers Association (RMBA), Missy spearheaded the effort to get RMBA more actively involved in the community through Feed More and other local nonprofits. "As mortgage bankers, we help get people into the homes that make communities, and I felt that we should do more to support those communities." In addition to financial support, RMBA board members package food at least 4 times a year and organize food drives for Feed More.
"I work on relationships, not transactions."
For Missy, her community ties her work as a loan officer to her volunteer efforts and all other aspects of her life. Some of the best referrals come from Missy's various networks. The Executive Director of Sportable is a Randolph-Macon College friend; they both serve on their Alumni Board as well.
"I work on relationships, not transactions," Missy says, "That's what builds your business and pushes you to the next level. That's community, too."
3 questions with Missy Bass
What's your favorite part of being a loan officer?
"Every single day is different! The variety keeps your mind sharp. No two loans are the same; I like that each loan is a puzzle that I can solve. And I like the camaraderie and the friendships – walking in to work and seeing my coworkers and talking to them every day."
Explain one way technology has helped you as a loan officer.
"Social media has really helped me gain traction. Instagram, Facebook, LinkedIn – they help me get in front of so many people, and help my personality shine through. But it's a double-edged sword – you really have to watch yourself and what you put online. I was doing social media from the very beginning, and it did get me in trouble with my marketing manager early on!"
If you weren't a loan officer, what job would you be doing?
"I would be a talk-show host! Or a travel blogger. I love to travel. I love exploring and meeting people and eating new foods."
Subscribe to Loan Officer Hub
Never miss a key insight, tool or strategy! Loan Officer Hub is here to help you succeed in the mortgage industry. Subscribe to our email newsletter to be notified when we drop the latest content from industry experts.