What makes Robert Coomer a leader in his community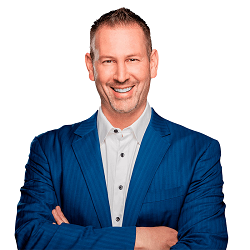 So, a guy walks into a bar…
This is no joke. It was actually the beginning of an extremely successful mortgage lending career – one that led to the creation of the Robert Coomer Group (RCG), now a division of Celebrity Home Loans in Nevada, and a significant donation to the Candlelighters Childhood Cancer Foundation. Candlelighters provides emotional support and financial assistance for children and families affected by childhood cancer.
The "guy" happened to be a loan officer, and the bartender was a young Robert Coomer. Robert served him drinks, and the patron offered up career advice about the mortgage industry. Robert was so intrigued by their conversation that, soon after, he quit his bartending job and started originating loans from a call center, where he became a top producer within 90 days.
It was indicative of what would become an illustrious career.
A commitment to helping people and giving back
More than 20 years have passed since then, and many milestones have been achieved: He's been ranked a top-producing originator by Scotsman Guide; he established his own 250-person lending group that closed out 2020 with $1.3 billion; and his group formed a partnership with Celebrity Home Loans in 2021.
Robert attributes his success to having great listening skills and a sincere commitment to helping people own the home of their dreams. "I want people to have what they desire, not what I want to sell them," says Robert.
As Robert's success grew, so did his charitable contributions, as he strongly believes in giving back and in RCG's core value of having a positive impact in the communities it serves.
In 2019, RCG began hosting fundraising events for the Candlelighters Childhood Cancer Foundation of Nevada and contributing a portion of every loan it funded. To date, RCG has donated more than $70,000 to Candlelighters.
Deciding to partner with the nonprofit was an easy one for Robert, the father of 5 healthy children.
"These kids didn't do anything to deserve cancer," explains Robert. "The money we raise goes toward paying the rent or mortgage for families so that the parents can take time off to be with their children."
3 questions with Robert Coomer
What is your biggest success as a loan originator?
"One of my greatest traits is my ability to think outside the box. For instance, when I started out, I worked on the home builder side, working with their 'declines.' I focused on more difficult challenges, finding alternative financing options for their buyers. Doing this made my relationships with builders more partner-like than transactional."
What was your biggest failure as a loan originator?
"When the market was hot, I tried to coach and communicate with my staff about the importance of saving their money for times like now. I knew it wasn't a matter of if the market turned but when. I wish I had made sure that my entire team was more fully aware of that. I will now be implementing financial planning classes for all of my LOs to ensure history doesn't repeat itself."
What are you doing to overcome the challenges facing the industry today?
"We're running into the fire – inflation is out of control and there's a lack of liquidity. The market is going through a correction. I'm trying to communicate with my employees, be transparent and offer them guidance and support. I'm also telling homebuyers to keep in mind that, eventually, mortgage rates will come back down. They can always buy now and refinance later."
Subscribe to Loan Officer Hub
Never miss a key insight, tool or strategy! Loan Officer Hub is here to help you succeed in the mortgage industry. Subscribe to our email newsletter to be notified when we drop the latest content from industry experts.