What makes Cory R.C. Banks a leader in his community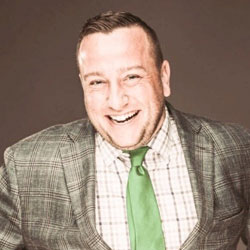 "Each year, 200,000 Americans are diagnosed with breast cancer. Six to ten percent of these diagnoses are metastatic, or stage IV, and approximately another 30% of breast cancer patients develop metastatic breast cancer. Despite this, only 2% of research funding goes to metastatic breast cancer. I started #Keys4Cancer in 2013, after my wife Eden passed away from metastatic breast cancer. Eden had graduated from Notre Dame and Harvard Law in 2006. She practiced law for 3 years before being struck with stage IV metastatic breast cancer. No warning. No symptoms. No family history. Age 29. All opportunities, hopes, and hard work torn away from her. She was given 3 months to live, a diagnosis discovered just days before Christmas in 2009. We stretched those 3 months into 3 years.
#Keys4Cancer is a way to help raise awareness and funding for an underfunded area of breast cancer. 30% of all breast cancer patients will metastasize, but only 2% of research funding goes to metastatic breast cancer. I want my efforts in the community I serve to go towards helping others who may be struggling with breast cancer. In particular, those affected by stage IV metastatic breast cancer are close to my heart. That's why I choose to donate my time toward these causes; with #Keys4Cancer I choose to donate not just my time, but also $50 of every closed loan goes directly to METAvivor.org to help increase the funding for metastatic breast cancer."
"Those affected by stage IV metastatic breast cancer are close to my heart."
An Interview with Cory R.C. Banks
Favorite part of being a loan officer?
The favorite part of being a producing branch manager, is helping families that were turned down by other lenders get into their dream home.
Biggest success as a branch manager?
Helping new loan officers become top performing loan officers in our marketplace. Last year, our office closed more loans than any lending company in Manatee, Sarasota, & Charlotte county. It's the amount of clients that we are impacting and changing lives, that makes all the difference.
Biggest failure as a branch manager?
My biggest failure has been balancing work and personal life. I am available to my clients 7 days a week from 9-9. When I go on vacation, I can't seem to truly unplug, as I care way to much about my clients.
Name one goal you'd like to achieve in the next year.
The main goal I have is to help 200 families get into homes by the end of the year, and raise over 15k for #Keys4Cancer.
How do you maintain referral relationships (which ones are most effective)?
99% of my business comes from real estate partners. They trust us with their clients, and know if financing can be done, that we will deliver.
Explain one way technology has helped you as a loan officer?
Technology has helped loan officers reach more clients. I can market myself in any 1 of the 19 states that I am licensed in, by doing Facebook marketing, or targeted marketing with Instagram.
How do you see the Loan Officer role evolving in the next 5 years?
I think we are on the brink of a market correction in the next 24 months, and this will showcase the strongest Loan Officer's with the deepest Realtor relationships. You have to be nimble on your feet in this industry, and MUST be willing to adapt to new technology.
What social media platform do you use most for business?
Facebook is what I use 4-6 times a day to stay connected and engaged with my customers and referral partners.
If you weren't a Branch Manager, what job would you be doing?
I am obsessed with football. My dream as a kid was to play in the NFL. I played 3 years of semi-pro football and made it to the championship game twice. I went to school for broadcasting and thinking that if I couldn't make it to the NFL, that I could still broadcast the game. I had been in banking since 2001, and mortgage lending and banking was always the safer option career wise, as a sports broadcaster, you must go where the opportunity is.
What is the biggest challenge currently facing the mortgage industry?
Currently the biggest challenge for ALL lenders is over selling rate. Rates should be in the mid 5's, yet all lenders are trying to outdo each other for business, shrinking margins on loans. A lot of lenders in the marketplace sell rate only. It needs to be more than just rate. Service, obtaining a commitment letter quickly, low fees, and lender reputation are just as important as rate.
Subscribe to Loan Officer Hub
Never miss a key insight, tool or strategy! Loan Officer Hub is here to help you succeed in the mortgage industry. Subscribe to our email newsletter to be notified when we drop the latest content from industry experts.