What makes Marc Williams a leader in his community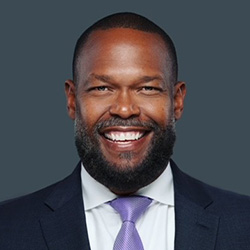 Marc Williams is all about helping individuals and families build generational wealth. Now a senior loan officer with PRMG in the Fort Lauderdale-Miami area specializing in down payment and closing cost assistance, Marc's career has been built around the importance of financial education.
"I've seen the impact that good advice can have when you show people a path to increase their wealth over time, whether they're purchasing a home or not," Marc says. "It's so rewarding to see how people make those changes in baby steps immediately, and then how they pass that knowledge on to their friends and family – and eventually, put their children in a better position to succeed."
Marc's first job out of college was with Neighborhood Housing Services of South Florida, a nonprofit organization focused on community revitalization, helping people understand their finances, build wealth and prepare to be homeowners. After several rewarding years there, Marc transitioned from the nonprofit sector to the private sector, and eventually became the loan officer who could help people in his community not only get prepared for buying a home, but actually get a mortgage.
"I've seen the impact that good advice can have when you show people a path to increase their wealth over time."
He puts his varied experiences to work bridging the gap between private, nonprofit and government groups in the housing space. He's been a consultant and educator with NeighborWorks America since 2005, helping HUD-certified counseling agencies grow sustainably. "Beyond teaching classes, I can show these organizations how to build their relationships with lending institutions, and how to get their story out there to communities who may not know they exist," Marc says, "People need to know that there are nonprofits out there that offer all kinds of financial literacy programs and other services that will benefit them."
Marc has also been involved with the Boys & Girls Club since a long-ago summer job as a youth counselor. "That experience affected me in such a positive way that I wanted to continue to give back in any way I can." Beyond sports and activities, he sees the Boys & Girls Club as an important venue to expose young people to different career paths they may not see represented in their communities, and uses his platform there to promote financial literacy and careers in the mortgage industry.
3 questions with Marc Williams
What's your favorite part of being a loan officer?
"Showing up for my closings and knowing that the information that I shared in my consultations did pay off for my borrowers. Really celebrating with them how they got there and seeing how that huge investment is going to change their lives.
I tell them that I want them to be a client for life – whether they use me or not for their next home, they're not just a number. I want them to continually connect and ask for advice.
At a closing a little while ago, a customer told me that they were the first in their family to buy a home. To know that I helped a young individual be the first in their family or generation to becoming a homeowner is humbling."
How do you see the loan officer role evolving in the next 5 years?
"I think a lot of loan officers aren't prepared when the market shifts. You have to be willing and able to adapt – whatever that looks like – and you need to be able to commit to it. Some LOs are comfortable with their area and their own backyard and aren't always able to look into other ways and other areas they can grow their business. In this industry, I can't wait on the market to make that decision for me."
What social media platform do you use most for business?
"Facebook or Instagram – I use LinkedIn, too, but for other purposes. It's a learning process and continues to be a learning process. I don't believe in buying followers. If you build it from the bottom and continue to grow it, people will follow you and start to respond, as long as you're being authentic. It's not only about what you post but going a step further and making a connection with the individuals that follow you."
Subscribe to Loan Officer Hub
Never miss a key insight, tool or strategy! Loan Officer Hub is here to help you succeed in the mortgage industry. Subscribe to our email newsletter to be notified when we drop the latest content from industry experts.