As a loan officer, making your mortgage advice a competitive advantage is key to securing more mortgage business. Most borrowers make mortgage decisions based on an interest rate quote from a loan officer. It's no wonder. Borrowers are trained to be rate shoppers. They're inundated with advertisements from mortgage lenders who, first and foremost, promote interest rates. The borrower assumes that the lowest interest rate is the #1 priority, and they don't consider alternatives because they haven't been educated to fully evaluate the other variables of the mortgage loan. However, consider using your mortgage advice as a competitive advantage to help you attract rate shoppers.
TRANSACTION TRIANGLE vs. ADVICE STAR
Many loan officers engage with the borrower at the transaction level. The typical transactional approach structures the mortgage conversation around three points—similar to the three points on a triangle:
Interest rate
Monthly payment
Cash to close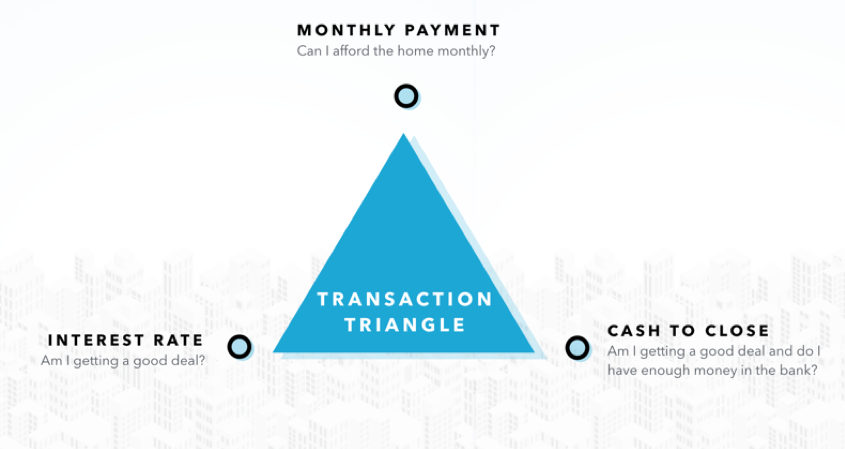 In comparison to the transactional approach, an ADVICE-based mortgage relationship looks and performs like a star. When you add two more discussion points to the borrower conversation, the loan officer has moved from delivering a rate quote with just a fee worksheet to delivering advice. The five data points and key insights to the mortgage ADVICE STAR include rate, payment and cash to close, but they also include two important data points and key insights that create more value for the borrower and give the mortgage professional a competitive advantage in the process.
Interest rate
Monthly payment
Cash to close
Total cost over time
Show financial strategies, such as prepaying your mortgage so you can reduce interest expense and pay off the mortgage faster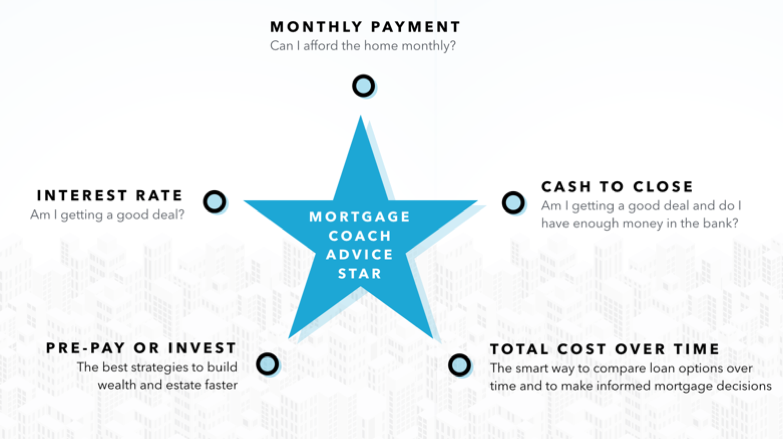 The most successful loan officers and most informed borrowers know that comparing the total cost of different loan options over 3-7 years is essential to making the best mortgage decision. They understand that you can't make a great decision without the transparency of the total cost of the loan over time and analyzing the impact of repaying a few hundred extra dollars monthly on the mortgage to reduce interest cost, build wealth, and become debt-free faster. This is why as a loan officer your mortgage advice is so valuable in gaining trust and referral business.
To help you better understand how the mortgage ADVICE STAR works in today's mortgage marketplace, let's review a few stories based on some of the most common situations in today's market.
1. Refinancing
With low interest rates, we're seeing lots of borrowers refinance. But just giving a borrower the rate, payment and closing costs is nothing more than transactional details (triangle). Instead, as a mortgage loan officer, showing them the cost over time and how to save interest by paying off their home faster provides real value. If you want to be a mortgage advisor, you must provide that value.
Let's review a Total Cost Analysis (TCA) and some sales leadership by mortgage industry thought-leader, Todd Duncan. With a TCA, all five aspects of the star are transparent and available to help the buyer make an informed decision, whether they're purchasing a home or refinancing their existing home. Todd Duncan illustrates scripting in action with this TCA.
2. High-value mortgage insurance strategies
Most first-time homebuyers don't have the flexibility of making large down payments, so they often need to consider loans with a mortgage insurance strategy tied to them. Top producer Keith Collins and other successful loan officers provide clear information around mortgage insurance strategies using a Total Cost Analysis. Keith's TCA* uses different types of mortgage insurance products for a competitive advantage.
3. Rent vs. own
With the rapid growth of millennials entering the homebuying market, we're seeing lots of first-time homebuyers. So, let's review how loan originator, Denise Donoghue is educating buyers on Facebook with a Rent vs. Own analysis.
In summary, just quoting rates, fees and closing costs to a borrower doesn't provide the real value that a borrower needs or deserves in approaching mortgage financing. Hope, dreams and financial goals are only realized when the mortgage loan originator moves to a relationship-based conversation with the borrower.
*Financed MI may change the LTV and ultimately the rate of the loan.
The opinions and insights expressed in this blog are solely those of its author, Dave Savage, and do not necessarily represent the views of either Mortgage Guaranty Insurance Corporation or any of its parent, affiliates, or subsidiaries (collectively, "MGIC"). Neither MGIC nor any of its officers, directors, employees or agents makes any representations or warranties of any kind regarding the soundness, reliability, accuracy or completeness of any opinion, insight, recommendation, data, or other information contained in this blog, or its suitability for any intended purpose.