The words "American Dream" are bandied about a lot in the mortgage lending industry. It's easy to think of it as a catchphrase and to forget that it still resonates deeply with many Americans – especially immigrant communities who come to the US to work for opportunities that may not be readily available in their home countries.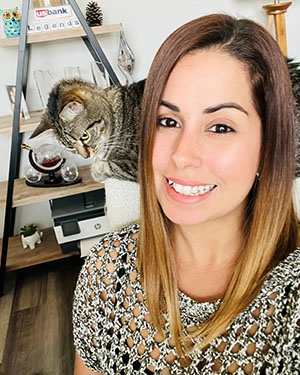 "In Cuba, there are no homes available," says Joanna Garcia, a U.S. Bank loan officer who came to the Louisville, KY area from Cuba in 2009 on her own, speaking no English. "Cubans coming to the US know the value of owning a home, because they're so scarce in Cuba."
With an education and a background in music, Joanna landed on her feet right away – musically, at least. She began playing the congas in a well-known local Latin band within months. Finding her professional footing took a little longer, but after a few years teaching herself English through restaurant jobs, she became a bank teller and then a banker. Eventually a bank recruited Joanna to be a loan officer in 2015 – in large part because of her Cuban background and bilingual abilities. The Cuban population was exploding in Louisville, and the bank recognized that having a loan officer from the Cuban community would be a huge asset.
But Joanna found that she didn't have the products at that bank that could help her community realize their dreams of homeownership. "You're coming from another country, you're looking for a better world, looking for a better economy," she says. "You need help affording the down payment."
In fact, Joanna had purchased her first home using U.S. Bank's American Dream program, which provides down payment assistance (DPA). So when US Bank came calling, asking her to become a US Bank loan officer, she knew it would be the right fit. The program that helped Joanna buy her first home is the program that was the springboard for her own professional success. Once she was in a position to provide the kinds of loans her Cuban community needed, Joanna's career took off immediately. "My customers don't have enough savings for 5% down," Joanna says. "If they don't qualify for the American Dream program, we try to qualify them for Home Possible or HomeReady. I don't give up on a loan."
"To be successful, you need to know what your community needs."
Her work ethic has paid off; in 2021, Joanna was #37 on the Top 250 Latino Mortgage Originators list compiled by the National Association of Hispanic Real Estate Professionals (NAHREP), a nonprofit trade organization that supports, celebrates and advocates for Hispanic homeownership. "To be successful, you need to know what your community needs," Joanna says. "And you need to know everything about your products. Know your products, know your guidelines, know what your underwriters will ask. When you put in the work and are confident in what you're talking about, you can give true prequalification and keep driving to close every loan."
Over the years since she joined U.S. Bank, Joanna capitalized on her visibility in the Hispanic community and patiently built up her network. "Now my name is out there everywhere," she says. She credits her communication skills and work ethic for maintaining her high level of referrals from real estate agents and consumers. "My team is all about education. We explain every step of the way and make sure our customers know what they're signing."
The next stage of Joanna's success? Building out her team. In 2022, Joanna plans to focus on the careers of her junior LOs. "If they're successful, I'll be successful," she says. She mentors junior LOs the way she educates borrowers – by making sure they understand and master each step before they move on.
And after years of playing congas in others' bands, Joanna has just started her own group, +Flow. Music is a part of her identity and her Cuban heritage. After a long day solving problems for borrowers and answering questions from real estate agents, music is the outlet that releases her stress and reenergizes her for a new day. And in fact, her music has always been one source of her name recognition within the Louisville Hispanic community.
Joanna found her success and her American Dream by bringing her whole self to work and to play. Her relentless drive keeps her community moving to the beat – and moving into homes.
The opinions and insights expressed in this blog are solely those of its author, Liz Keuler, and do not necessarily represent the views of either Mortgage Guaranty Insurance Corporation or any of its parent, affiliates, or subsidiaries (collectively, "MGIC"). Neither MGIC nor any of its officers, directors, employees or agents makes any representations or warranties of any kind regarding the soundness, reliability, accuracy or completeness of any opinion, insight, recommendation, data, or other information contained in this blog, or its suitability for any intended purpose.